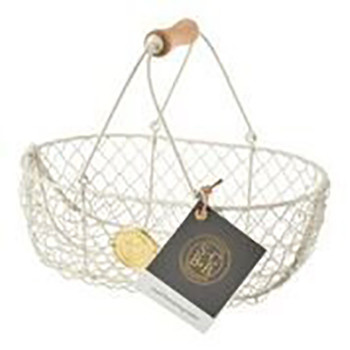 Burgon & Ball - Sophie Conran Large Harvest Basket
SKU 01839
Product Details
This collection of tools, gardening accessories, homeware and gifts is the result of our long-term association with Sophie Conran - designer, gardener, cook, mother and entrepreneur.
The only daughter in the well-known Conran British design dynasty, Sophie has been designing for Burgon & Ball since 2010, collaborating on products that have won numerous awards and enjoy a near-cult following among keen female gardeners.
In this collection there are gorgeous gifts and stylish homeware in Sophie's signature colours: gift sets of seeds; lovely hardwearing gloves; delicate tea light holders; and practical-but-pretty herb pots to bring a splash of colour to your kitchen.
This is where you'll also find the beautiful Sophie Conran for Burgon & Ball garden hand tools: designed with smaller handles to better fit a woman's hand and with stylish design touches like brass ferrules, we are confident this is the best range of women's garden tools available.
This attractive hand-crafted wire basket is an absolute delight to use. It's perfect for harvesting tasty treats from the kitchen garden, as its large capacity gives plenty of room to gather enough for everybody. It's also ideal for carrying cut flowers, as the open weave allows any water to simply drain through.
In the home, it adds a beautiful touch of country chic. It creates a rustic feel as a holder for kindling next to the fire or stove, or makes a delightful centrepiece to a country-style floral arrangement.
The smooth FSC certified beech wood handle is gently shaped to fit the hand, and the strong galvanized steel wire has a tough powder coating in a classic grey. A brass seal bearing the Sophie Conran for Burgon & Ball logo adds the finishing touch.
This item is a special order item and can take up to 28 days for delivery.

Save this product for later