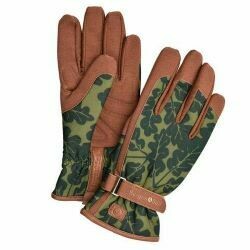 Love the Glove...Ladies Oak Leaf Moss Gardening Gloves
SKU 4CXFGD13
Product Details
Burgon & Ball firmly believe that a technically advanced pair of gardening gloves shouldn't have to be dull! This design combines high fashion with high performance, to create a selection of gloves which are a pleasure to wear.
Ultra-soft feel ladies' gardening glove in hard-wearing fabric that doesn't stiffen after drying. 2-way stretch mesh between fingers regulates hand temperature and improves dexterity. Elastane-rich backs enhance fit and dexterity.

Wrist strap provides snug fit and stops debris dropping into glove. Padded palm gives extra cushioning.

Decorative genuine leather trim. Machine washable at 30°C for easy care.

Save this product for later